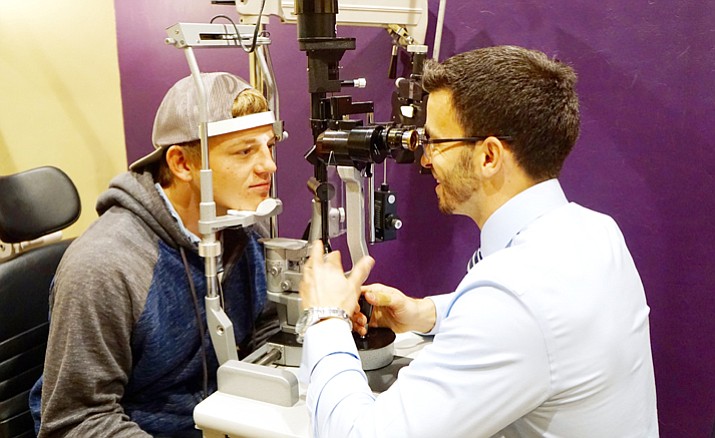 Deiden Bennett, a 17-year-old high school student, was doing poorly in school, but it wasn't for a lack of trying.
"I was having a hard time in school," he said. "I couldn't see the (black) board. My grades kind of failed."
Someone had to read his school books to him, and he sometimes walked right up to the blackboard to read it. He struggled to learn and couldn't see well enough to get a job.
His vision had been deteriorating for years.
"It started (when he was) about 9 or 10. My Dad's tried to get it fixed multiple times, and it just wasn't working," Bennet said. Doctors "couldn't really fix my eyes.
"It was bad. It was like 20/400."
Then a doctor suggested he see Dr. Jon Bundy at Premiere Eye Center of Prescott.
Bundy happens to be secretary of the Prescott Sunrise Lions Club, and a primary goal of Lions Clubs worldwide is to ensure good vision for young people, usually by supplying them with glasses.
"Insurance doesn't cover what he needed," Bundy said. "But I knew my Lions Club … would jump at the opportunity to help him out, so I told him, 'All right Deiden, we'll get you taken care of.'"
Deiden needed a fairly complex solution to restore his sight. It took several office visits to fix the problem.
"He has just a ton of astigmatism," Bundy said. "Now, people hear that word and they freak out, and I tell them all day long, 'That's not a problem; you just need glasses or contacts.'"
Astigmatism is a condition in which the eye is not perfectly round, but might be shaped more like a football. This distortion prevents light rays from meeting at a common focus, so anyone with the condition has trouble seeing clearly. According to Bundy, there are several ways to correct the condition, including eyeglasses, contact lenses or surgery.
"But (Deiden) had about three times as much as we can correct with glasses," Bundy said. "And contact lenses would just fall out of his eye."
So Bundy ordered sclera lenses, which he describes as a "super-special rigid contact lens," which can literally re-shape the eyeball, so it can focus.
"Some patients say it looks like a hubcap going into the eye," Bundy said, with a laugh. "But it's not quite that big."
Bundy said that when he met Deiden he had just begun using a newer, better lens designed for extreme cases.
"Deiden showed up at the perfect time," he said. "I had to use the new design because his eyes are so abnormal. If he would have shown up four months ago prior, we wouldn't have been successful."
The first pair of the lenses they ordered was not quite right. Even so, Deiden walked out to the reception area and exclaimed, "Whoa! I can see,' and he started to cry," Bundy said.
A month and four visits later, another pair of contact lenses restored his vision to nearly perfect.
"I don't think it's really overstating it to say that now he can go to college and really be successful."
Then there's driving. Without the vision correction, he couldn't pass the driver's license test. But now that's attainable, as is a job, which he has now.
Deiden said he is thankful that Bundy was able to help. "He was really cool," Deiden said. "I'm glad he helped me. I like him."
And, as for school? "My grades are up," Deiden said. "I got straight A's now. I can see the board. I go to school every day."
"He's an amazing kid," Bundy said.